Have you ever given that much thought to when and how the clothes hanger was invented? I mean if you really think about it, it is one of those things that you use almost daily. And even if you don't use one daily, you at least own some, right?
I combed through a lot of research on the history of the clothes hanger and combined all that information into a timeline, based on a collection of hangers collected here at National Hanger Company, (NAHANCO). What I didn't have on hand to refer to, I supplemented with images of patents and various clothes hangers collected by others to give some structure and guidance on how the clothes hanger has changed over the years.
Handee Wooden Foldable Hanger, (1925-1932)
Folding wood clothes hanger made by the Handee Company, Bennington, Vermont. Bottom bar attached with metal loops. Two arms swivel with joint at top with metal pin and hanging hook. Pin marked "HANDEE / PAT PEND".
Handee Company was based out of Bennington, Vermont. According to the Bennington Museum and the City Directories, the Handee Company was located on 655 Main Street in 1927 and on 126 Burgess Road between 1928-1932. J.A. Shoemaker is listed as the president and Grace Shoemaker as treasurer and the J. A. Shoemaker Company appears to have been a parent or partner company also manufacturing hangers.
It is pretty interesting the different takes on how the clothes hanger actually evolved and who actually should get the credit for the invention. I found this excerpt from Professor Robert Hoskins, a professor of display and exhibit at the Fashion Institute of Technology in Manhattan. He speculates that the mother of the hanger was the tree branch, and before that, the bush. Whatever there was to keep your clothing off the ground was used.
Fast forward a few years. There wasn't really a need for clothes hangers because there were not a lot of clothes early on and people didn't really own more than one or two pieces. Clothes were worn daily, even slept in. Additionally, the position of the armhole in lady's clothing of the 1830's and 1840's was so low that a dress or a bodice couldn't be put on a hanger. Curators at major costume museums agree that clothes hangers were probably not made until after 1850.
So, who really Invented the clothes hanger and when?
Agree to disagree, some say the credit goes to Thomas Jefferson and his space saving device in his closet, a center pole with radiating wooden rods arranged in a spiral to drape clothing on. However, the first real patent for the hanger is (incorrectly?) attributed to O.A. North of New Britain, CN, in 1869, according to Ditto, The Hanger Historical, The Complete History of the Common Everyday Hanger, written in 2018, https://www.dittosbs.com/news/news.php/hanger-historical
Granted in 1869, the invention was more of a set of pegs and a long, inverted hanger that was permanently attached to a wall (see below). An 1852 patent for a shoulder-shaped metal wall hanger by fellow Connecticuter W.B. Olds clearly predates North's, while other predating patents from 1867 and 1868 also more closely resemble modern hangers, https://www.vox.com/the-goods/2020/2/6/21113481/wire-hangers-history-use
Towards the end of the 19th Century, the concept of an everyday hanger started to grow, and hundreds of designs flooded the patent office. It was Albert J. Parkerhouse of Jackson, MI, who invented the first "modern" wire hanger in 1903. The story goes that one morning in 1903, Parkhouse arrived to work to find that all coat hooks were taken. Annoyed, he took a piece of wire, bent it into the shape we would recognize today, and hung his coat. Later that year his employer, John B. Timberlake and the Timberlake Wire and Novelty Company patented Parkerhouse's wire hanger design, making a fortune for the company. Parkerhouse never profited off his invention. 115 years later this basic hanger design is still in production, mostly for laundry and dry-cleaning companies. Wikipedia, https://en.wikipedia.org/wiki/Clothes_hanger
Why were clothes hangers invented?
Not until the Industrial Revolution streamlined the manufacturing and shipping processes did most Americans even own enough garments to warrant considerable storage. Homes built in that era did not typically include closets; most Americans kept unworn clothes folded in chests or hung on wall-mounted rods. Here is a general outline of the evolution of the clothes hanger, https://read.cash/@ladyhanabi/evolution-of-clothes-hanger-603ec714
Inventions come from necessity. In the late 1800's, the fashion-conscious Victorians were the first generation who began to use rudimentary hangers and hooks to hang garments in wardrobes. Victorian women's bustles and skirts needed careful storage and hanger inventors came to their aid with all kinds of adjustable components and spring systems to allow the skirts to retain their pleats and hold the waistbands. The clothing hanger was originally designed to allow people quick access to their clothing as well as designate an area, in their home, to keep their clothing in. It was also used to keep clothing dry and wrinkle-free.
Metal Shirt Hanger, folded - 1897
Between 1900 and 1906, 189 patents were registered for various types of hangers, including designs with coil springs, metal clips, and hinges for easy portability. They were made of wood, fabric, plastic, and—of course—wire. All types of hangers began to emerge, both handmade and in small production. Did you know the average wire hanger measures 17 inches lengthwise and 44 inches when straightened and that it has been this way, more or less, for a long time?
In 1932, Schuyler C. Hulett patented an improved design mounted cardboard tubes on the wire sections which supported the clothing in order to prevent excess wrinkling. 1935 Elmer D. Rogers added a tube on the lower bar, which is still used. You will often see these designs used today for dry-cleaning services. One problem with Hulet's 1932 cardboard tubes invention was that the cardboard wore out and fell off, leaving the wire shoulder to crease clothing.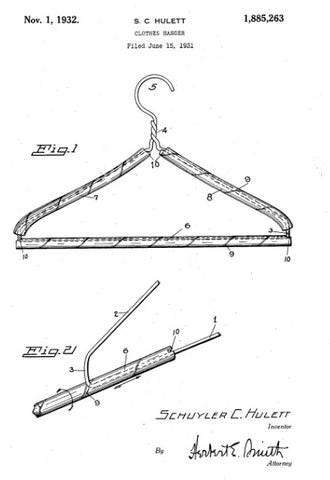 Metal Shirt Hanger, 1940's
The turn of the century saw an influx of hanger designs as high-end stores began using hangers to display their fashions (at the time, these new garment holders were called "shoulders"). Despite the success of the simple wire hanger, the more luxurious wooden hanger also saw its developments. In 1906 Meyer May, a men's clothier of Grand Rapids, Michigan, became the first retailer to display his wares on his wishbone-inspired hangers. Tailors and clothing merchants were quick to see that these specialty hangers could be used to advertise their businesses. advertising that often far outlasted the clothing.
This is an T. EATON Co. Limited, Winnipeg Fur Storage Hanger circa. 1940
National Wooden Hanger and Custom Laundry, 1930-40's
Wooden Suit Hanger (1940's-50's)
Wooden Suit Hanger with Clasped Pant Bar, 1960's
In 1965, Gerhard Wieckmann filed a patent for a revolutionary new hanger that still had a wire hook, however used a new design wooden frame. This wooden frame was developed to minimize the creases in clothing caused by wire hangers and to increase the hanger's robustness. Additionally, the wider wood shape would help overcome problems caused by cardboard tubes displacing from the wire hanger frames. Even though this design was more costly, it increased the lifespan of the hanger.
Metal Suit Hanger (Post WWII, Early 60's)
With the dawn of plastics a series of novelty plastic hangers with wire hooks started to appear in the 50's and early 60's. Being too brittle to use for larger hangers, colorful plastic decorative hangers were geared towards the children's clothing market and sales to consumers. In 1967, J.H Batts filed a patent for a molded plastic hanger which would not only lower production costs but would increase the hanger's durability - the contoured design enabled it to hold heavier items such as suit jackets and pants with greater sturdiness while enabling garments to maintain their natural shape. The ability to shape the plastic exploded the plastic hanger market, expanding the hanger into a wide range of shapes and sizes.
Plastic Suit Hanger with Metal Clips, 1967
In 1986 the Voluntary Inter-industry Commerce Standards, or VICS, was formed to standardize the hanger design to bring consistency to retail hangers. These standards required that all retail hangers have the same look, such as the "I-beam" design we've come to recognize. Because of these standards, hangers never innovated, keeping the same look for over 20 years.
Throughout the years, in addition to broader and stronger structures, clothes hangers have evolved to incorporate clips, notches and pant bars in order to accommodate new clothing styles, prevent slipping and minimize creasing. Today hangers come in all shapes, sizes, and finishes. Plastic hangers are the most popular for home use while high end retailers still prefer the use of quality wooden clothes hangers.
So, A Little About NAHANCO
In 1925, based out of New York City, National Hanger Company (NAHANCO) became a distributor of clothes hangers for retail stores. In 1959, NAHANCO started the manufacturing of poly-styrene plastic clothes hangers for women's wear fashions and eventually moved all facilities to what was previously the manufacturing facility for Cushman Furniture in North Bennington, VT in 1979. Still a manufacturing plant and a distributor of retail store supplies, NAHANCO is going strong helping businesses to build their brands, around the world, one clothes hanger at a time.